Weldclass Products
A Little Bit concerning Weldclass
Over thirty-five years in the past Weldclass, an Australian family-owned company entered the welding Market, and that they have grown up to become one among the leading lights within the fastening and metal-fabrication offer market. one in every of their initial product, the now-famous taipan Original Flap Disc got it right then and they've been obtaining it right ever since with a stable of the first product and distinctive solutions.
From helmets and welding safety products to abrasives, consumables, and welding accessories... Weldclass products are used with success by welders right across the country. they're the mainstay of pros in engineering workshops, mine sites, producing plants, farm sheds, and building sites.
Weldclass products are used to repair stockyards, build pipelines, repair machinery, construct infrastructure....and maybe even designed your house or shed.
Sure, our products are designed to survive the rigours of the works floor however we tend to wish to suppose that what makes Weldclass completely different is that the overtime we tend to place into obtaining the merchandise right for you.
Weldclass isn't "just another welding supplier" and that we don't simply "bring in stuff". we tend to do plenty of client analysis before we decide our product....we fastidiously supply makers world-wide, analyse their capabilities and fastidiously work with them to develop product to deliver what the skilled craftsman expects....both currently and within the future.
We really fancy delivering surprising solutions. whereas several of our product look acquainted and like others...there are quite an few that perform on top of and on the far side, or offer solutions that prevent trouble & time. simply to call some... the EC500H earth clamp, the self-attaching helmet hood, and therefore the Weldclass Clear Lens vary. Or the legendary Pt GL-11 Gasless Wire; (we've lost count of what number welders tell us that this is often the smoothest-running, most easy gasless wire they've ever used).
Our regular customers are with Weldclass for years not simply because of our product however thanks to the time, care, and energy we tend to place into our client service. Our product is designed to figure when altogether conditions however if you've got any issues, problems or suggestions with any of our vary, we would like to listen to from you. taking note of our customers is what we tend to do best and that's what has unbroken us going and growing for over thirty-five years.
Customer-driven innovation; for the customer, by the customer. because we would not be here without You.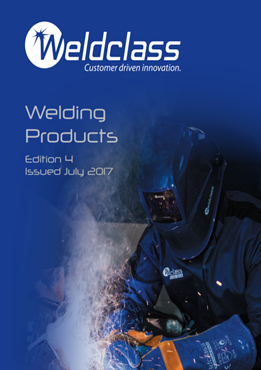 ---