Filter By Brand

Filter By Category

Filter By Stock

Filter By Price Range

Filter By Price Range
Spot Welder Tips Electrodes
---
Subcategories
---
Spot Welder Tips & Electrodes Products
1 Related Content Found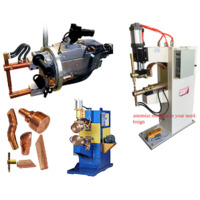 Our range of spot welders for sale including battery welders, inverter spot welders, seam welders, table spot welder, portable spot welders and pedestal spot welders.
---
Spot Welder Tips & Electrodes Description
What is electrode or tip in spot welder, and the material suitable for resistance welding?
Electrodes are important factors in the resistance spot welding process. The most burnt part due to high temperature impact. It is important to select the electrode material (shape size tip profile and cooling). Electrode materials are mainly copper alloys with a small percentage of alloying element to improve hardness, while maintaining good conductivity. The most common materials are Class 2 (e.g. copper/chromium or copper/chromium/zirconium) and may be used for low carbon and high strength steels in general. Higher conductivity alloys, such as copper/zirconium and dispersion strengthened copper, show some benefits when welding coated steels as they provide less surface heating because of their low contact resistance. Tungsten/copper, tungsten, or molybdenum are used for applications such as projection spot welding inserts.