MIG Wires
---
Subcategories
---
MIG Wires Products
4 Related Content Found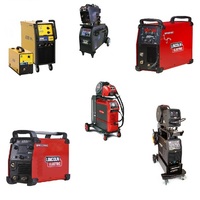 National Welding Supplies can help you find MIG welder and also the best MIG welders depending on what's needed for your budget or job specifications.
Wire feeders are used to extend the length of a MIG gun, often used in field operations and hard to reach jobs.
By using a welding trolley you can save time and increase productivity especially in an environment where a machine consistently needs to be moved.
---
MIG Wires Description
A quality MIG wire is the key to producing clean welds and preventing extra costs incurred having to fix mistakes due to bad MIG wire. Gasless MIG wire is popular but may not be suited for your application. Always check that the wire you purchase is suited for the job. We stock a wide range of MIG wire - from aluminium to stainless steel - stocking a range of brands including; Bossweld, Harris, Kobe, WIA and Lincoln MIG wire.