Notify me when back in stock
---
Uni-Mig 350 SWF - Separate Wire Feeder

KUMJR350SWF

The Uni-Mig 350 SWF is an inverter-based MIG welding machine with added MMA and DC TIG function.

This is an industrial machine equipped with a separate 4 wheel gear driven wire feeder and 10m interconnecting cables. The MIG function allows you to weld with solid and Flux Cored Gasless wires. Adjustment of Voltage & Wire Feed at the wire feeder make for easy setting of welding parameters and give the convenience of remote adjustment from the power source.

Crater Current setting delivers perfect finishing of the weld, the electronic inductance offers fine adjustment of the arc characteristic and burn back adjustment leaves the wire stick out ready for the next weld. Wire inch and Gas Check provides set up of wire feed and gas setting without any wastage of wire or gas. Added MMA welding capability delivers easy and high quality welding using electrodes, including cast Iron, stainless steel and low hydrogen. Connection of the 26V TIG torch provides quality DC TIG (Lift Arc) welding of mild steel, stainless steel and copper.

Ideal for heavy and structural welding applications, general engineers, maintenance workshop and rural workshops.

Designed and built to manufacturer's specifications.

Certified to - AS/NZ60974.1

Package Contents:
UNI-MIG 350 SWF Multifunction Inverter Welder Power Source

Seperate Wire Feeder

Heavy Duty Trolley complete with tool box with optimal storage

10 metre interconnecting cable-set

10 metre ARC welding lead-set

SB36-4M Uni-Mig Sure Grip Ergo MIG torch with Euro connection

UNI-FLAME Twin Gauge Argon Regulator

2 metre Gas Hose Complete with fittings
OPTIONAL
TIG Torch: 26V-4MCP50 with 35/50 Dinse style connections
Choosing the Right UNIMIG Machine for You
Whether you're a professional welder with industry experience or a weekend warrior with a welding hobby, the first thing you need is a welder.
There are a few factors that you should consider before diving into buying a machine. These include the material, the material thickness, the weld type (MIG, TIG or stick), the power, and, most importantly, your budget.
The material you want to weld, and its thickness, will determine the welding process that will work best for you, especially as not every welder can do every material.
What material are you going to be welding?
MIG

TIG

STICK

mild steel

stainless steel

aluminium

copper

bronze

mild steel

stainless steel

aluminium

copper

bronze

zinc alloys

mild steel

stainless steel

cast iron
How thick is the material you plan to weld?
| | | | |
| --- | --- | --- | --- |
| | MIG | TIG | STICK |
| < 200A | 1mm-10mm | 1mm-6mm | 2mm-10mm |
| > 200A | 1mm-12mm | 1mm-8mm | 2mm-12mm |
| 500A | 1mm-30mm | 2mm-10mm | 2mm-30mm |
These sizes are subject to the power your welder can output, so always check the product specifications.
What's the difference between MIG, TIG & Stick?
PROs

CONs

MIG

easy to learn

gasless option

gas tank

TIG

really thin metals

better looking welds

gas tank

hard to learn

STICK

no gas

limited to thicker material
Now you should have a decent idea of which type of welding you think will work best for your needs; we can start narrowing the options even more.
What power points are available to you?
The power you can plug into is going to dictate the range of machines you can pick from. A standard domestic outlet is 10 AMP, so everyone will have one of those.
A 10 AMP plug will usually support up to 180 AMPs, and a 15 AMP plug will usually support up to 200 AMPs. Anything over that will require an authorised electrician to install a plug (20 AMP or 32 AMP) for you by Australian law.
How long do you want to weld for?
There's one main thing on a welder that will determine how long you're going to be able to use a welder without stopping—the duty cycle.
If a welder has a duty cycle like this: 10% @ 180A, that means you can use the welder on its max AMPs (180A) for a full minute straight before it overheats. Duty cycle is measured in 10-minute increments, so if you have a 10% duty cycle at max AMPs, you'll have 1 minute of constant welding and then 9 minutes cooldown time.
Viper vs Razor
Viper machines are designed for home DIY projects and weekend hobbyists, but they're also great for any offsite work. The Viper machines are lightweight, portable, and with a 10 AMP plug, they'll go just about anywhere. They're built to be user friendly, making setting up and getting started as quick and easy as possible. The Viper machines come with helpful setup guides on their inside panel so that no matter what level welder you are, you can get the machine running without issues.
On the other hand, Razor machines are made to suit a range of professional and industrial need. They're usually equipped with a 15 AMP plug, but some of the really high AMP machines require specialised plug sockets. The bigger plugs mean that most of the Razor range can reach a much higher max AMP output than the Vipers. Razor machines also come with a full 3-year warranty.
What kind of budget do you have?
Whether you've decided to MIG, TIG or stick weld, you're going to need a few extras:
Filler metals

Consumables (these need to match your wire sizes which in turn need to match your material size)

Gas tanks (if needed)
Unimig Machines have decades of professional tried and tested technologies under their belts. You'll be buying from a top tier, Aussie owned family business with local support centres across the country.
Synergic Control
A synergic welder is a machine that's pre-programmed with a set of parameters that allow it to select the best settings for you automatically. The programs for UNIMIG's synergic controlled machines were made in collaboration with an expert welder to ensure that their parameters are going to produce a good weld.
Synergic welders are an excellent choice for beginners, as you won't need to spend any time messing with the settings to get the weld right. There's no guesswork involved, and you've usually only got one knob to play around with.
Most synergic welding machines will ask for the wire thickness and the parent metal thickness. Once you've input these, it will automatically decide your voltage and wire speed for you, and you can start welding straight away.
Part Number/SKU: KUMJR350SWF
* Product Images are for illustration purposes only, unless otherwise specified colour may be different.
Features:
MIG/MAG Function
MMA (Stick electrode) (DC+ / DC-) function
Stepless Voltage & Wire Feed Controls at Wire Feeder
Variable Inductance & Burn Back Controls
Adjustable Crater Current Control
Gas Purge / Wire Inch
2T/4T Trigger Function (MIG Only)
Separate Wire Feeder with geared 4 wheel roller drive
LED Volt/AMP Meter Digital Display
DC TIG welding with scratch start
10m Interconnecting Cables
Trolley with pull out tool storage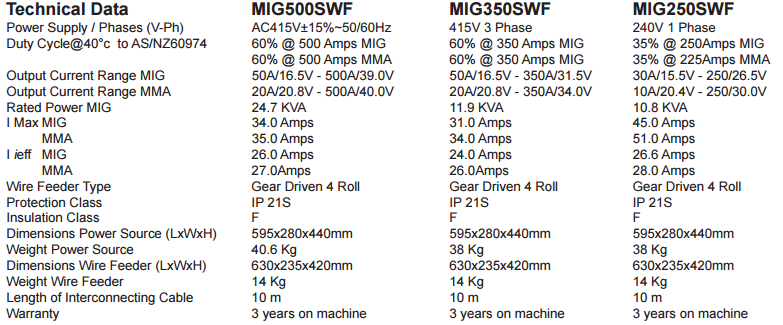 | | |
| --- | --- |
| SKU | KUMJR350SWF |
| Brand | Unimig |
| Shipping Weight | 90.0000kg |
| Shipping Width | 1.000m |
| Shipping Height | 1.000m |
| Shipping Length | 1.500m |
| Shipping Cubic | 1.500000000m3 |
| Unit Of Measure | ea |
Be The First To Review This Product!
Help other National Welding and Industrial Supplies users shop smarter by writing reviews for products you have purchased.
Associated products
---
Others Also Bought
---
More From This Category