Which Tungsten Electrode is Best for Your Application?


Which Tungsten Electrode is Best for Your Application?
Welders need to consider several factors when deciding which tungsten electrode is best for an application. Using the proper tungsten allows for quality TIG welding, while making the wrong choice results in wasted time and added expense. Different types of tungsten electrodes work well for different applications and welders must consider the power source, type of material being welded and thickness of that material. The following types of tungsten electrodes are available from National Welding Supplies:
2% Thoriated Tungsten Electrodes – Red Tipped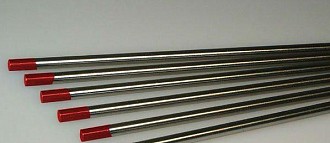 This type should be used on applications with DC current equipment with constant current from a transformer. Containing 1.7% to 2.2% thorium oxide, this radioactive tungsten electrode works well with mild steel, stainless steel and other non-corroding metals. Red-tipped tungsten electrodes fall in the mid-range for amperage and erosion, as well as spitting tendencies. Choose from 1.6mm, 2.4mm and 3.2mm rods.
Check out our range of Thoriated Tungsten Electrodes here

0.8% Zirconiated Tungsten Electrodes – White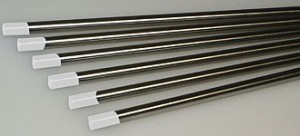 These tungsten electrodes contain 0.7% to 0.9% zirconium oxide and work well on applications with AC current equipment. Non-radioactive and available in 3.2mm, 2.4mm and 1.6mm rods, white tipped tungsten electrodes are the ideal choice for aluminum or magnesium applications. This type balls well and performs better than pure tungsten in terms of arc stability, arc starts and spitting at high amperage levels. Depend on the corrosion resistant characteristics of these tungsten electrodes.
Check out our range of ZIrconiated Tungsten Electrodes here

1.5% Lanthanated Tungsten Electrodes – Gold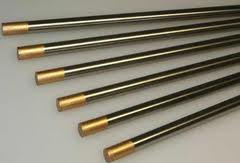 This type of tungsten electrode functions as an alternative to 2% thoriated with DC current equipment, either with an inverter or operating with a transformer at constant current. Gold tipped products contain 1.3% to 1.7% lanthanum oxide and provide reliable welds on non-corroding steel, as well as copper, nickel or titanium alloys. These tungsten electrodes do not spit, provide optimum DC arc starts and offer low rates of erosion and a wide range of amperage settings. Available in rod sizes of 1.6mm, 2.4mm and 3.2mm.
Check out our range of Lanthanated Tungsten Electrodes here

2% Ceriated Tungsten Electrodes – Grey Tipped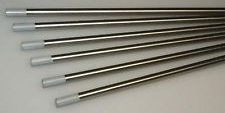 This type of tungsten electrode provides thorium-free welds on a wide range of materials. Used equally well with AC and DC current equipment, 2% ceriated tungsten electrodes allow for consistent welds in multi-purpose applications. It tends to be more expensive than other types, but offers versatility and dependability across many industries. Look for ceriated tungsten electrodes in rod sizes of 3.2mm, 2.4mm and 1.6mm.
Check out our range of Ceriated Tungsten Electrodes here
Multi Pack Tungsten Electrodes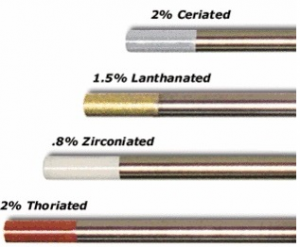 We also offer a value-added package that includes all four tungsten electrodes listed above. Shop our current sales and stock up for the best sale prices.Check out our range of multi pack Tungsten Electrodes here
---
Leave a comment