TIG Torch Parts
Sub-Category:
Collection Of Tig Torches With Feature Flexible Heads To Increase Comfort And Get Into Tighter Spaces.
We have TIG Torch parts for all TIG torches, TIG Torch spares consist of:
TIG Torch Body
TIG Collet Body
TIG Gas Lens
TIG Gas Nozzle
TIG Back Cap
---
5 Related Content Found
Arc/Stick/MMA welding is often the beginner's choice along with 6013 general electrodes since they are easy to use learn with. Most TIG machines come with an Arc function also.
View ARC / Stick / MMA / TIG Welders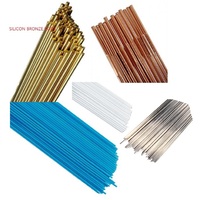 TIG rods and gas rods are also known as electrode or sometimes TIG wire. They are used as a consumable in TIG welding.
By using a welding trolley you can save time and increase productivity especially in an environment where a machine consistently needs to be moved.
TIG torches are sometimes referred to as a welding torch. They fit TIG machines and choosing the right one can make a big difference in weld quality.